Tractor Trailer Crashes
Tractor trailer crashes can have devastating consequences. With the extraordinary forces involved in large truck accidents, drivers and passengers of all ages can experience severe traumatic injuries. Senior citizens are often particularly susceptible to suffering life-changing and life-threatening injuries when tractor trailers malfunction and truck drivers make careless mistakes. Far too often, injuries from tractor trailer accidents force senior citizens into assisted living facilities and other forms of long-term rehabilitation centers. When a fatality occurs, family members across the country are left to grieve the loss of loved ones while struggling to find answers about what went wrong.
Truck Accident Law Firm in The Villages, FL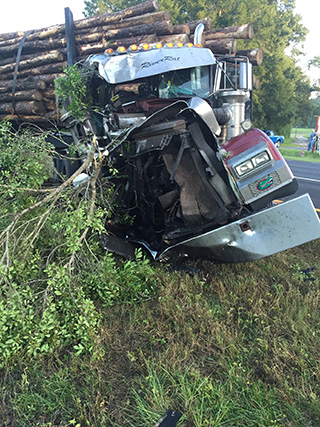 The statistics on tractor trailer accidents are sobering. National data shows that fatal truck accidents have been on the rise in recent years, with car, van and SUV occupants making up the substantial majority of crash victims. More than one in ten fatal roadway crashes involves a commercial truck, and 97 percent of the victims in these accidents are occupants of passenger vehicles. Among large truck crashes, tractor trailers lead the way – accounting for 75 percent of all commercial truck accident fatalities.
In other words, if you have been injured or lost a loved one in a tractor trailer accident, you are not alone. At the Babiarz Law Firm, PA, we know the consequences of tractor trailer accidents all too well. We represent clients in truck crash cases in Lake, Marion and Sumter Counties, and throughout Central Florida. Over the years, we have recovered millions of dollars in compensation for victims and their families.
A Prompt Investigation Can Be Critical
In the aftermath of a truck accident, it can be difficult to make sense of your situation. What went wrong? How can I make sure the trucking company is held responsible? What if I (or my loved one) was partially to blame? How can I make sure I recover enough money to cover my future medical bills and other expenses?
These are all important questions, and at the Babiarz Law Firm, PA we are happy to help you understand your rights in a free and confidential consultation. We also have an in-house investigator who can promptly visit the scene of the accident and collect key evidence for your claim. We are accessible by phone or on-line, and we can make prompt arrangements to meet with you at home or in the hospital if you are unable to travel to our offices in The Villages, FL.
Grounds to Seek Compensation After a Tractor Trailer Accident
From truck defects to truck driver negligence, there are countless issues that can lead to serious and fatal truck wrecks. When we investigate your case, we will examine possible causes such as:
Drunk driving
Distracted driving
Lack of driver training or experience
Speeding, following too closely; and other driving errors
Cargo loading errors
Truck defects and maintenance issues
Too many hours behind the wheel
Other violations of state and federal motor carrier standards
Right now, it is not important that you know what happened. All you need to know is that you are entitled to a free consultation about your legal rights. To speak with The Villages truck accident lawyer Tim Babiarz in confidence, please contact us today.
Contact Us for a Free Consultation
With offices in The Villages, we represent clients who have been injured and lost loved ones in tractor trailer accidents on Interstate 75, Florida's Turnpike; and other roadways throughout Central Florida. If you have a claim, we will work hard to make sure you recover full and fair compensation for your accident-related losses. To schedule a free initial consultation with attorney Tim Babiarz, please call (352) 205-7599 or inquire online today.